The Prairie Brass Band Recordings
Christmas Celebration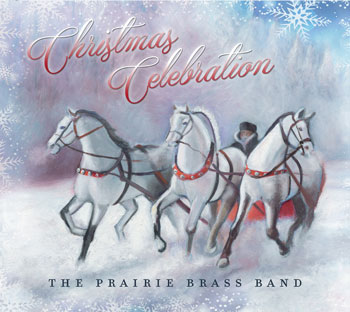 Enjoy the sounds of the holiday season performed by your favorite brass band! Selections include Winter Wonderland, The Holly and the Ivy, A Christmas Celebration in Brass, Ding Dong Merrily on High, White Christmas and many more. 15 beautifully arranged holiday selections to brighten your holiday season for years to come.
The cost of the album is $9.99 for download or CD.
Order Here
Listen to the Prairie Brass Brand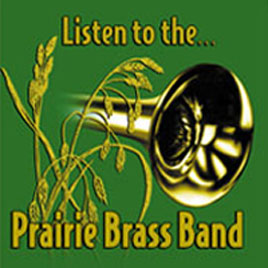 Listen to the Prairie Brass Band is our first recorded album. It is conducted by Dallas Niermeyer with Ken Wistrom, Assistant Conductor
The cost of the CD is $17.00, which includes $2.00 for shipping.
1. Listen to the Band, Monckton arr. Renton
2. Dimensions, Graham
3. Pastime With Good Company, Traditional arr. Roberts
4. Fanfare for the Prairie, Steinberg
5. The West Riding, Wood
6. Rhapsody for Trombone, Jeff Gaylord, Trombone Soloist, Joe Gaylord, Guest Conductor, Langford
7. Clog Dance*, Marcangelo arr. Charleson
8. The Lord's Prayer, Malotte arr. Short
9. Kirkby Lonsdale, Richards
10. Serenade, Bourgeois
11. Brazil, Barosso arr. Broadbent
12. A Tameside Overture, Sparke
13. Arnhem, Kelly
Into Africa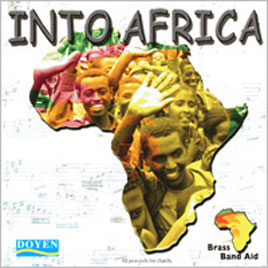 Into Africa - Brass Band Aid - A compilation of African-themed brass band music composed by well-known composers and performed by brass bands around the world, including the Prairie Brass Band. All proceeds from the sale of the CD will go to Brass Band Aid and will contribute to the building of a new school in the town of Adet in the north of Ethiopia. The cost of the CD is $20, which includes $2 for shipping. Order your copy today!
1. School Children of Adet I, Recorded live by Bob Thompson
2. BBA March, Roy Newsome, Wingates Band
3. Kibera, Ian Robinson, GUS Band
4. Hymn for Africa, Peter Meechan, Leyland Band
5. Fresh, Torstein Aagaard-Nilsen, Mount Charles Band
6. Ivory Ghosts, Gavin Higgins, IP Brass
7. Nansi Imali, Ladysmith Black Mambazo arr. Stephen Barber, IP Brass
8. African Trio, Kenneth Downie, National Youth Brass Band of Wales
9. Simba, Rodney Newton, The Fairey Band
10. Dignity, Alan Fernie, Scottish Co-op Band
11. Hansi im Deschungel, arr. Mnozil Brass, Mnozil Brass
12. Mbabane, Jan Magne Forde, The Brazz Brothers
13. African Funk, Alan Fernie, Royal Nova Scotia International Tattoo Brass Band
14. Heed the Word, Lucy Pankhurst, Prairie Brass Band
15. African Adventure, Darrol Barry, Black Dyke Band
16. The Evening Prayer, Humperdinck arr. Robert Childs, Buy As You View Band
17. Do They Know It's Christmas?, Bob Geldof and Midge Ure arr. Alan Fernie, Brass Band Aid Celebrity Band
18. School Children of Adet II, Recorded live by Bob Thompson