The Prairie Brass Band
Founded in 1997 under the direction of Dallas Niermeyer, the Prairie Brass Band is a performing arts organization which aspires to the highest musical standards and is dedicated to the growth of the brass band movement in the Chicago area and throughout North America. PBB's 35 volunteer members travel from all over Chicago and its suburbs to attend rehearsals and performances. PBB performs about 15 concerts per year in the Chicago area. In addition, PBB competes in the U.S. Open Brass Band Championships held the first weekend of November in St. Charles, Il.
Directed by Mary Barnes-Gingrich
As a French hornist, Mary Barnes-Gingrich performed in Chicago for forty years as a free lance artist. She travelled to Europe and Asia and also recorded with the Chicago Symphony Orchestra (Solti, Barenboim) on many occasions, playing Wagner Tuba as well as the horn.
Mary played Principal Horn with the Northern Virginia Chamber Orchestra, The Arie Crown Orchestra (Broadway Shows) and frequently played extra with the Lyric Opera Orchestra and Milwaukee Symphony. Until recently, she was a member of Ars Viva and The Lake Forest Symphony. She also enjoyed an active chamber music career throughout her time in Chicago.
No longer a performing hornist, Mary has directed her energy toward conducting and composing. She has been involved with Brass Banding for 10 years, first as the Solo Tenor Hornist of The Prairie Brass Band (Dallas Niermeyer, Director and founder) and then as the appointed Music Director for the past 6 years. She also conducts the Chicago Horn Consort and helped found (and conduct) Benefit Brass. Her compositions and arrangements have been performed at The US Open Brass Band Championships, at Benefit Brass concerts, and in England at the Brass Band Summer School.
Mary also is a visual artist. She shows her etchings and paintings in three midwestern galleries and is best known for her portraits of professional women artists and musicians.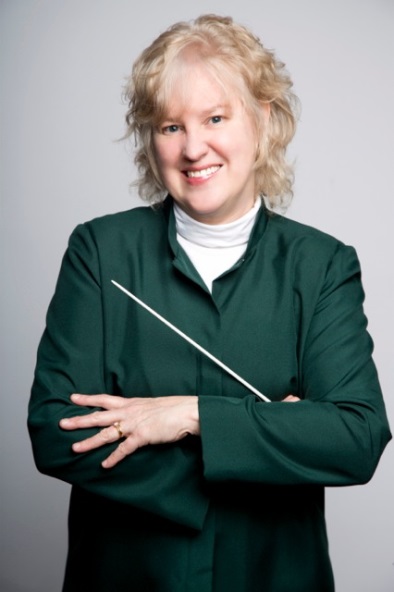 Band Instrumentation
The Prairie Brass Band uses traditional British brass band instrumentation: cornets instead of trumpets, tenor horns instead of french horns, both euphoniums and baritones, and E-flat and B-flat tubas, as well as percussion. The music for every instrument in the band is written in treble clef, except for the bass trombone (which is a story in itself). Since the band competes in a national contest every year, there is a great incentive to continually improve. Most players, however, are attracted to the band simply because the music is challenging, widely varied, and fun to play. Unlike an orchestra or wind band, brass bands have no string or reed instruments and the percussion section is smaller, which increases the musical demand on the musicians to fill all the voices of the orchestra. In a brass band all of the musicians are more active and get to play throughout the pieces, making greater use of their skills.
PBB Ambassadors
The summer of 2002 saw the formation of the Prairie Brass Ensemble (also known as "PBB Lite" for short) and Jazz on the Prairie to meet the high demand for quality musical groups in the Chicagoland area, and to further explore the seemingly bottomless library of available music for smaller 5- to 10-piece groups. Both groups have proven to be popular with audiences since their inaugural performances in the fall of 2002.
The Prairie Brass Band in Arlington Heights
Since 1999, the Prairie Brass Band has made its official home in Arlington Heights, Illinois - a northwest suburb of Chicago. In honor of the Prairie Brass Band's move, May 21, 1999 was declared Prairie Brass Band Day in Arlington Heights.
Annual Concert Series
The Prairie Brass Band's annual concert series includes indoor concerts at Forest View Educational Center and other local venues. Typcially, there is a concert around the holidays in December, a spring concert in March, and a summer concert in June, often in a lighter "pops" style. The band also visits Door County to perform on occasion. Watch our Facebook page for more information.
Band Rehearsal
The Prairie Brass Band rehearses every Thursday night from 7:30 to 9:30 in the Band room at The Christian Liberty Academy, 502 West Euclid Avenue, Arlington Hts, IL 60004-5495.
Prairie Brass Band is a member of the Arlington Heights Chamber of Commerce, and has several members who live and/or work in Arlington Heights. Contact Us to inquire about becoming a member!
The Prairie Brass Band has a long-standing and enjoyable relationship with the Arlington Heights community.
For more information about brass bands in general, please click here.