Band News
2013 PBOY Awarded to Joe Gaylord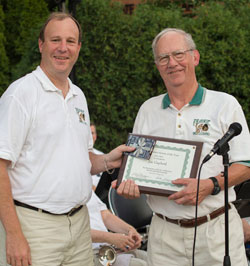 Joe Gaylord - Cornet, was the winner of the PBOY Award on July 18th at our performance in Harmony Park in our hometown of Arlington Heights. Joe is one of the founding members of the band.
The PBOY award is a service award given to that band member who has best displayed the exemplary characteristics of attitude, dedication, service, attendance and musicianship.
Congratulations to Joe from the entire Prairie Brass Band family.
pictured here at the celebration party are Joe Gaylord and band president, Clark Niermeyer
Prairie Brass Band Hosts US Open Brass Band Championships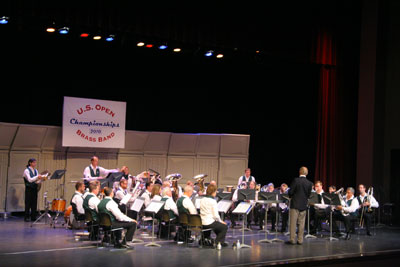 The Prairie Brass Band will host the eleventh annual US Open Brass Band Championships at the Norris Center in St. Charles, IL on November 2, 2013.
Spectators are the primary reason for the success of the U.S. Open Brass Band Championships.
Thank you for your participation and we hope to provide you with entertainment that you won't soon forget!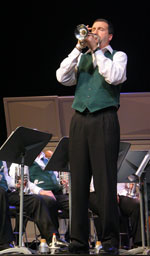 Open Rehearsals
The Prairie Brass Band rehearses on Thursday evenings in Arlington Heights. Please contact Clark Niermeyer at info@prairiebrass.org for rehearsal details.