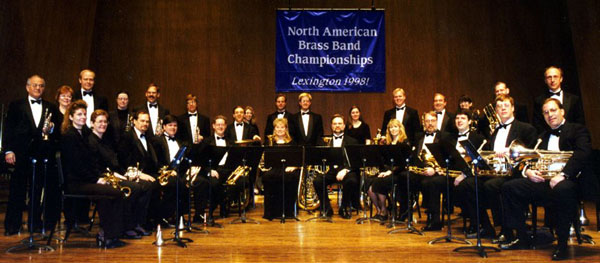 Back Row (standing - L to R): Michael Brainin, Jackie Cook, Gabe Kasparek, Carol Dickenson, Michael Golden, Steve Bergstedt, Steve Marcus, Teralyn Schwab, Clark Niermeyer, Jerry Cadden, Megan Tiedt, Lothian Hamilton, Steve Larkin, Jackie Harris, David Guion, Dallas Niermeyer
Front Row (seated - L to R): Cyndi Scoglio, Christine Moore, Larry Pawlowski, John Freeman, Jim Short, Jennifer Conroy, Roger Menning, Kay Larson, Dan Wiseman, Brad Say, Michael Fath, Tom Buettgen
© 2008 - 2019, Prairie Brass Band. All rights reserved. Website by Linked in Design.